On February 4th, 1998, Ron Radko and I made a trip to our local dyno place to get our car's horsepower measured. A fascinating day. I met Ron at 2 p.m. in front of Building 27 at Microsoft. Building 27 didn't exist when I was working there. Heck, Building 27 didn't exist the last time I drove on the Microsoft campus, so I had to find the place. I drove up in front of the building to find Ron's black Boxster. We had never met in person, or even talked on the phone before. His Boxster differs from mine in several aspects:
| Feature | Ron's | Greg's |
| --- | --- | --- |
| Model Year | 1998 | 1997 |
| Build Date | November 1997 | June 1997 |
| Exterior | Black | Black |
| Interior | Boxster Red Leather | Black Partial Leather |
| Top | Black Cabriolet Top | Black Hard Top |
| Tires | 17" Michelin Pilots | 17" Michelin Pilots |
| Hub Caps | Gold Porsche Crests | Grey Porsche Crests |
| Boxster Logo | On Rear | Deleted |
| Roll Bars | Silver | Black |
| Shift Knob | Carbon Fiber | Black Leather |
| Brake Handle | Carbon Fiber | Black Leather |
| Instrument Dials | Silver | Black |
| Traction Control | No | Yes |
| On-board Computer | No | Yes |
| Seat Positioning | Fully Automatic | Manual |
| Seats | Heated | Non-heated |
| Exhaust | Korda | Stock |
| Transmission | 5 Speed Manual | 5 Speed Manual |
So after I hooked up my radar detector, we took off down I-405, me in the lead. Traffic was fairly heavy so we couldn't open it up. When we got to highway 167, Ron took over the lead. I snapped these pictures of Ron's car as we drove: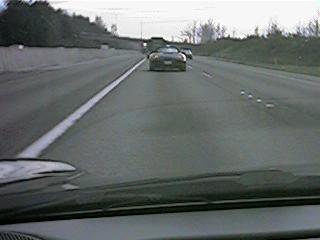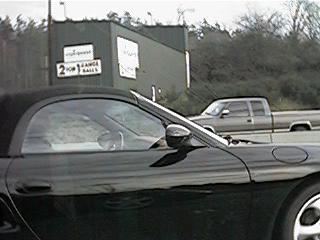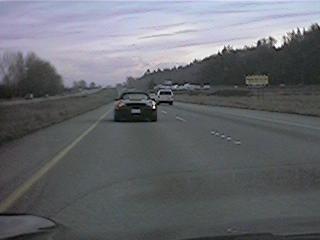 (Notice the raised spoiler! No, officer, I wasn't going 75, really!)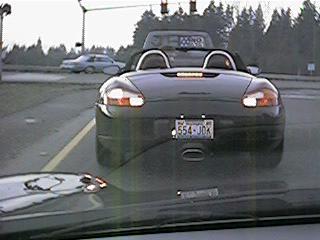 (See the Korda exhaust.)
While driving, I noted something about Ron's gold hub caps: When they spin they make a gold blurred circle in the center of the hub. You won't see that with the gray hubs on mine. I'd never considered that before. I'm not sure the effect is worth $180, but it was interesting.
We finally got to the the dyno place near Puyallup. It's called Pro-Max and has a web site at http://www.pro-max.com
. Our first trick was to find a spark plug. We disassembled Ron's roof and opened his engine compartment lid following the directions in the Owner's Manual. (Oops, I didn't get any pictures. Sorry. Next time.) When we got to the engine, though, we couldn't find any spark plugs. So then we put it on a rack and the plugs are easily findable from underneath. Good thing, too, because I had my hard top on.
We clipped a wire to one of the spark plugs, then Ron drove to the dyno while Pat walked holding the spark plug wire. We had one minor difficulty, which was that as Ron was backing off the rack, he bottomed out for a moment and popped a little hose bracket off the bottom. It went back on easily later, but remember to be careful any time you are using a rack. Ron then positioned his car on the Dyno and they clamped it down. We reassembled his engine compartment and roof. On the dyno, it looked like this: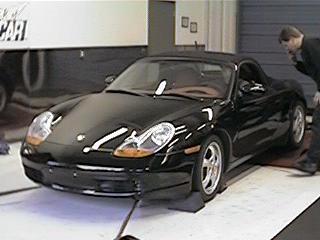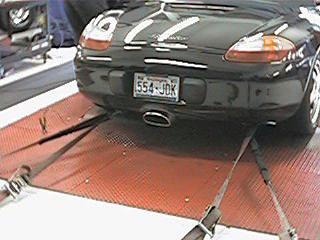 (Good shot of the Korda exhaust, here)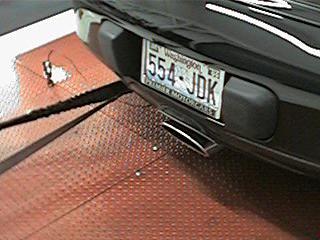 Ron then put it in third and punched it. When he sends me a scan of his performance graph, I'll include it here, but it is shown as the top line in the comparison graph further down. Both of us in our runs experienced our ABS idiot light on the dash coming on for a little bit.
So then we undid everything and put it back on the lot. I snapped these pictures then. My car is in the foreground, Ron's in the background in the first photo, vice versa in the second.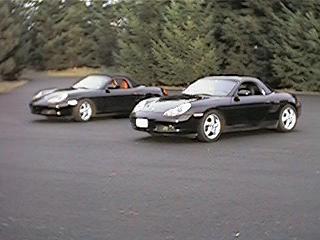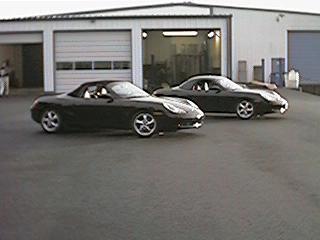 Then it was my turn. We put my car on the rack, using boards to keep from bottoming out this time. On the rack, we noticed my oil leak. Yes, after claiming just a week ago that I hadn't lost a drop, I've suddenly been losing oil recently. On the rack, there was obvious oil dripping from the engine. But we clipped the wire and continued. I backed onto the dyno and we did my run. I turned off the traction control before starting. Resulting printouts: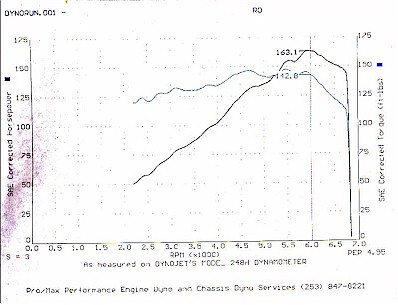 (Note, this is measuring horsepower and torque as measured at the wheel, which is why we're only getting 163.1 horsepower.)
And the table: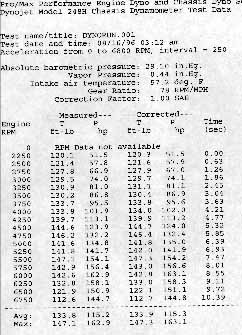 We also tested my speedometer. At 60 mph, my speedometer is within 1 mph of true!
We then superimposed Ron's run with the Korda exhaust over the top of mine. The result is an across the board seven to eight horsepower difference. When Ron makes a run without the exhaust in the next couple of days, we will see if that is engine difference between Korda and stock, or whether there just is a difference in performance between his and my engines (being two different model years). Here is the superimposed graph. The higher curve in each case is Ron's.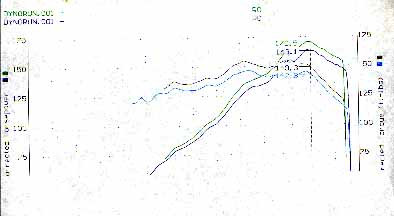 Cost to do the runs, including tax: $81.30 per car.
We had these photos snapped, my car in the background, Ron's in the foreground: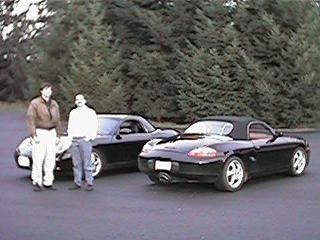 We then swapped cars for about 5 miles as we drove back. I got to try his heated seats. Damn, I wish I had them! I also tried his automatic seat positioning stuff. This would be really nice if you had more than one driver for the car. Since I don't, I'm happy with my manual, although for a 1997 model year this option wasn't available anyway. This shot didn't come out too well, but below is a picture of the seat positioning memory buttons on Ron's car. The things at the bottom of the picture are the front and rear trunk releases.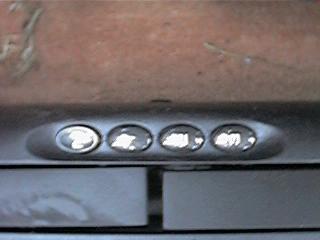 The Korda exhaust greatly increases the resonance of the car. The sound doesn't do much for me, though, and it is awfully throaty at the 2-3K rpm.
Ron then lead me on a back roads way through Issaquah. I left him back at the Microsoft campus.
All in all, a very interesting day!
[By the way, if you have a Tiptronic transmission, it is very important to read the note in the Porsche 986 Boxster FAQ
before trying to do a dyno run.]